The famous Petit Faune boutique on rue Jacob in Paris in the 70s - 80s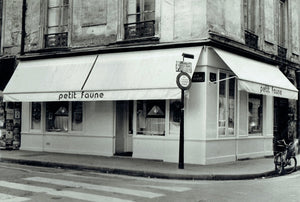 The story of Petit Faune in 5 key dates:
1969, The birth of Petit Faune

: Sylvie Loussier opens the first Petit Faune boutique in Paris. The enthusiasm is immediate. Thanks to word of mouth, the press, and a loyal clientele, in just a few years the boutique on rue Jacob has become a staple of children's fashion.
1974, Fenaison

: The first perfume for children is launched. Composed by Monique Gibert, the idea is not to "scent" babies but on the contrary to prolong and underline the fragility of the smell of a warm baby waking up in his straw basket.

1978, Les Ouvrages Petit Faune

: Petit Faune distributes the first patterns of its emblematic models in the form of ready-to-sew or ready-to-knit kits to do it yourself. Following a mail-order catalog, the first "Ouvrages Petit Faune" shop opened in Paris, rue de Rennes, in June 1982. The first ready-to-create shop was launched. The brand quickly and until today became a must and a reference.
The 80s

, Petit Faune goes international: The brand quickly expands abroad with two stores in Tokyo, two in New York, one in Munich, one in Barcelona and then, at its peak, about twenty franchises in France.
March 2021, Renewal

: Petit Faune and Ouvrages Petit Faune are taken over by Sylvie C & Adeline, mother and daughter. Adeline's passion for sewing and knitting, inherited from her grandmother, Thérèse, allows her to rework and relaunch Petit Faune's world while preserving the affection that many share for this brand. The story continues...
Petit Faune International